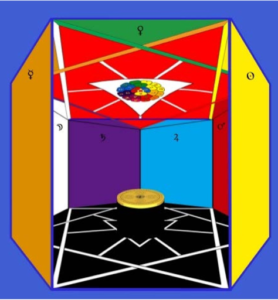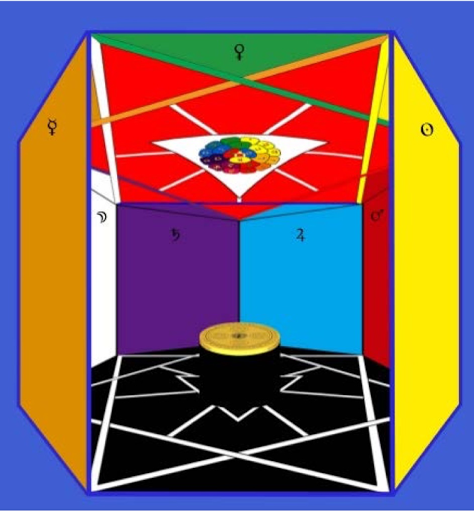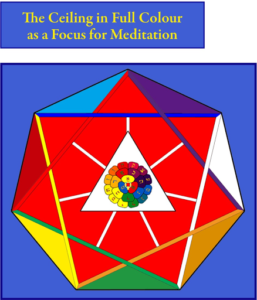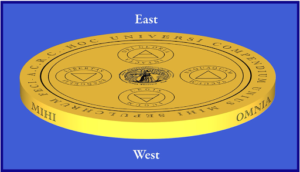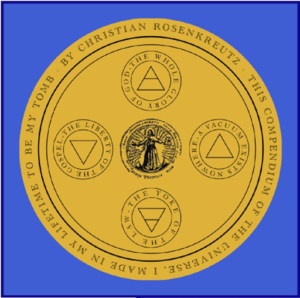 (Images from Paul Goodall)
There appeared to our sight a vault:
Seven sides and corners, every side five foot broad, and the height of eight foot.
Although the sun never shined in this vault, nevertheless it was enlightened with another sun, which had learned this from the sun, and was situated in the upper part in the center of the ceiling.
In the midst, instead of a tombstone, was a round altar covered over with a plate of brass, and thereon this engraven:
A.C.R.C. Hoc universi compendium unius mihi sepulchrum feci —  "This compendium of the Universe I have made in my lifetime to be my tomb."
Round about the first circle, or brim, stood, Jesus mihi omnia  — "Jesus is all things to me."
In the middle were four figures, inclosed in circles, whose circumscription was,
1. Nequaquam vacuum. — "A Vacuum exists nowhere."
2. Legis Jugum. — "The Yoke of the Law."
3. Libertas Evangelii.  —  "the Liberty of the Gospel."
4. Dei gloria intacta.  —  "The Whole Glory of God."
This is all clear and bright; as also the seven sides and the two Heptagoni: so we kneeled altogether down, and gave thanks to the sole wise, sole mighty and sole eternal God, who hath taught us more than all men's wits could have found out, praised be his holy name. This vault we parted in three parts, the upper part or ceiling, the wall or side, the ground or floor.
Of the upper part you shall understand no more of it at this time, but that it was divided according to the seven sides in the triangle, which was in the bright center; but what therein is contained, you shall God willing (that are desirous of our society) behold the same with your own eyes; but every side or wall is parted into ten figures, every one with their several figures and sentences, as they are truly shown and set forth Concentratum here in our book.
The bottom again is parted in the triangle, but because therein is described the power and the rule of the inferior governors, we leave to manifest the same, for fear of the abuse by the evil and ungodly world. But those that are provided and stored with the heavenly antidote, they do without fear or hurt tread on and bruise the head of the old and evil serpent, which this our age is well fitted for. Every side or wall had a door or chest, wherein there lay divers things, especially all our books, which otherwise we had. Besides the Vocabular of Theoph: Par. Ho. ("Theophrasti Paracelsi ab Hohenheim." More commonly known as Paracelsus.) and these which daily unfalsifieth we do participate. Herein also we found his Itinerarium and vitam, whence this relation for the most part is taken. In another chest were looking-glasses of divers virtues, as also in another place were little bells, burning lamps, and chiefly wonderful artificial songs, generally all done to that end, that if it should happen after many hundred years the Order or Fraternity should come to nothing, they might by this only vault be restored again.
Now as yet we had not seen the dead body of our careful and wise father, we therefore removed the altar aside, there we lifted up a strong plate of brass, and found a fair and worthy body, whole and unconsumed, as the same is here lively counterfeited, with all his ornaments and attires. In his hand he held a parchment book, called I., the which next unto the Bible is our greatest treasure, which ought to be delivered to the censure of the world. At the end of this book standeth this following Elogium:
Granum pectori Jesu insitum.
C. Ros. C. ex nobili atque splendida Germaniae R.C. familia oriundus, vir sui seculi divinis revelatiombus subtilissimis imaginationibus, indefessis laboribus ad coetestia, atque humana mysteria; arcanave admissus postquam suam (quam Arabico, & Africano itineribus Collegerat) plusquam regiam, atque imperatoriam Gazam suo seculo nondum convenientem, posteritati eruendam custodivisset & jam suarum Artium, ut & nominis, fides acconjunctissimos herides instituisset, mundum minitum omnibus motibus magno illi respondentem fabricasset hocque tandem preteritarum, praesentium, & futurarum, rerum compendio extracto, centenario major non morbo (quem ipse nunquam corpore expertus erat, nunquam alios infestare sinebat) ullo pellente sed spiritu Dei evocante, illuminatam animam (inter Fratrum amplexus & ultima oscula) fidelissimo creatori Deo reddidisset, Pater dilectissimus, Fra: suavissimus, praeceptor fidelissimus, amicus integerimus, a suis ad 120 annos hic absconditus est." (14)
Underneath they had subscribed themselves,
1. Fra. I.A., Fr. C.H. electione Fraternitatis caput.  —  "by the choice of Fra. C.H., head of the fraternity."
2. Fr. G.V. M.P.C.
3. Fra. R.C. Iunior haeres S. Spiritus
4. Fra. B.M., P.A. Pictor & Architectus
5. Fr. C.G. M.P.I. Cabalista
Secundi Circuli
1. Fra. P.A. Successor, Fr. I.O. Mathematicus
2. Fra. A. Successor Fra. P.D.3. Fra. R. Successor patris C.R.C. cum Christo triumphant.
At the end was written
Ex Deo nascimur, in Jesu morimur, per spiritum sanctum revivscimus. —  "We are born from God, we die in Jesus, we live again though the Holy Spirit."
At that time was already dead brother I.O. and Fra. D. but their burial place where is it to be found? We doubt not but our Fra. Senior hath the same, and some especial thing laid in earth, and perhaps likewise hidden. We also hope that this our example will stir up others more diligently to inquire after their names (whom we have therefore published) and to search for the place of their burial; for the most part of them, by reason of their practise and physic, are yet known, and praised among very old folks; so might perhaps our Gaza be enlarged, or at least be better cleared.
Concerning Minutum Mundum, we found it kept in another little altar, truly more fine than can be imagined by any understanding man; but we will leave him undescribed, until we shall truly be answered upon this our true hearted Fama. And so we have covered it again with the plates, and set the altar thereon, shut the door, and made it sure, with all our seals. Besides by instruction and command of our Rota, there are come to sight some books, among which is contained M. (which were made instead of household care by the praiseworthy M.P.). Finally we departed the one from the other, and left the natural heirs in possession of our jewels. And so we do expect the answer and judgment of the learned, or unlearned.
Howbeit we know after a time there will now be a general reformation, both of divine and human things, according to our desire, and the expectation of others. For it is fitting, that before the rising of the sun, there should appear and break forth Aurora, or some clearness, or divine light in the sky. And so in the mean time some few, who shall give their names, may join together, thereby to increase the number and respect of our Fraternity, and make a happy and wished for beginning of our Philosophical Canons, prescribed to us by our brother R.C., and be partakers with us of our treasures (which never can fail or be wasted), in all humility and love to be eased of this world's labour, and not walk so blindly in the knowledge of the wonder-fill works of God.
Notes:
(14) "A grain buried in the breast of Jesus. C. Ros. C., sprung from the noble and renowned German family of R.C.: a man admitted into the mysteries and secrets of heaven and earth through the divine revelations, subtle cognitions and unwearied toil of his life. In his journeys through Arabia and Africa he collected a treasure surpassing that of Kings and Emperors; but finding it not suitable for his times, he kept it guarded for posterity to uncover, and appointed loyal and faithful heirs of his arts and also of his name. He constructed a microcosm corresponding in all motions to the macrocosm and finally drew up this compendium of things past, present and to come. Then, having now passed the century of years, though oppressed by no disease, which he had neither felt in his own body nor allowed to attack others, but summoned by the Spirit of God, amid the last embraces of his brethren he rendered up his illuminated soul to God his Creator. A beloved Father, an affectionate Brother, a faithful Teacher, a loyal Friend. He was hidden by his disciples for 120 years."
(17) "Under the shadow of they wings, Jehovah."